Author: Stieg Larsson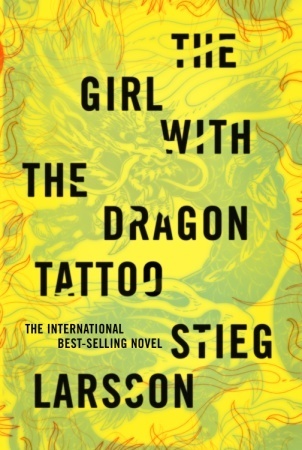 Book Blurb:
Mikael Blomkvist, a once-respected financial journalist, watches his professional life rapidly crumble around him. Prospects appear bleak until an unexpected (and unsettling) offer to resurrect his name is extended by an old-school titan of Swedish industry. The catch—and there's always a catch—is that Blomkvist must first spend a year researching a mysterious disappearance that has remained unsolved for nearly four decades. With few other options, he accepts and enlists the help of investigator Lisbeth Salander, a misunderstood genius with a cache of authority issues. Little is as it seems in Larsson's novel, but there is at least one constant: you really don't want to mess with the girl with the dragon tattoo.
My Review:
This is part one of the Millennium trilogy, and the first book in years that is more than 500 pages long and I finished it in a day. I just had to, there was no other option. Once you start reading, you need to finish it asap.
This book is quite different to any other book that I have ever read. It is a clever amalgamation of murder mystery and corporate thriller.I have read both stories independently, but never together.
Character crafting is excellent, especially when the number of characters are too many. While you take time getting to know them, once you are familiarized with who is who their individual personalities start making sense.
I loved the character of the Girl with the dragon tattoo. It is so true when a person's looks do not fit your idea of a 'responsible adult', you tend to think that they are nothing, that they have nothing to offer, they have no talent…and Lisbeth is here to ensure that you realize that you are very wrong.
If you are looking for a thrilling read, be sure to pick this one up.
I rate this book a perfect 4 out of 4.
Buy the book.