Author: Suzanne Collins
Hunger Games: part 3 (Catching fire (part 2) review Here and Hunger Games review Here)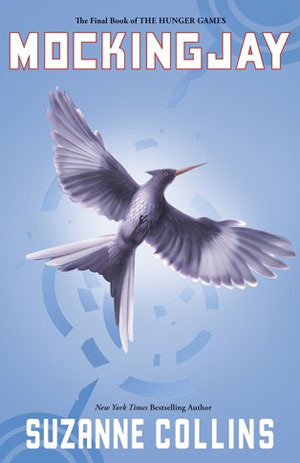 Book Blurb:
My name is Katniss Everdeen.
Why am I not dead?
I should be dead.

Katniss Everdeen, girl on fire, has survived, even though her home has been destroyed. Gale has escaped. Katniss's family is safe. Peeta has been captured by the Capitol. District 13 really does exist. There are rebels. There are new leaders. A revolution is unfolding.

It is by design that Katniss was rescued from the arena in the cruel and haunting Quarter Quell, and it is by design that she has long been part of the revolution without knowing it. District 13 has come out of the shadows and is plotting to overthrow the Capitol. Everyone, it seems, has had a hand in the carefully laid plans–except Katniss.

The success of the rebellion hinges on Katniss's willingness to be a pawn, to accept responsibility for countless lives, and to change the course of the future of Panem. To do this, she must put aside her feelings of anger and distrust. She must become the rebels' Mockingjay–no matter what the personal cost.
My Review:
This is the Hunger Games book, without the actual Hunger Games in it.
While I could understand why Ms. Collins could not end the story by putting Katniss in third consecutive Hunger Games, I could not understand the reason for it being three books. I believe that if catching fire and Mockingjay had been combined, it would have been such an amazing fast paced book.
The writing is really good, I could feel Katniss's desperation and confusion. Also, I liked how various issues came up like the treatments of victor's after they have won the Hunger Games, the power plays, the fight for survival, etc.
But I have a few issues with this book:
First of all, I would have liked to know what was ACTUALLY happening in the war, what were the strategies, who did what and why…instead of hearing what people just told to Katniss while she was either in the hospital or pretending to fight in low concern areas.
Secondly, the speech of Finnik should have been more detailed..and also how it exactly impacted snow..
All I am saying that this book could have been a whole lot better if Katniss would have been shown as an actual leader in the actual fight.
But, this series still on the whole was really good!
Also, the trailer is out for the movie, if you have not watched, here it is:
Rating for this book: 3 out of 5
Rating for the entire series: 4 out of 5